Street racing has been around about as long as there have been streets. Whether it was horses, carriages or later, cars, people have raced since day one. while I do NOT condone street racing, I can't say that, as a kid, I never took part...few can. Many stories have arisen about street racing back in the 50's, 60's, 70's, and even the 80's. There's even been some movies...Hot Rod, The California Kid, American Graffiti, and many others including the recent Fast and Furious movies.
Stories I've heard over the years have all sorts of endings. Some have been funny, some serious, and a few have been downright tragic. Fortunately, there's no tragic ones here. I hope you enjoy them and, if you have a story to share, send it to me at gassermadness@draglist.com. I'm not interested in current stuff. The stories should be at least 15 or 20 years old. That will show that you matured enough to live through it, and it also precludes the rice rockets of today.
Glenn and I were discussing Rochester Fuel Injection units...specifically the 57-58 Pontiac Bonnevilles. Here's a story that arose from that conversation:
Byron,
I was only 19 in 1957. <grin>
I have a Pontiac "Bonneville Story" from 1957:
In 1956, the Lake Pontchartrain Causeway (26 miles long) was completed from New Orleans to Mandeville.
This gave us a much shorter route to Covington and Hammond from New Orleans.
The drag strip was at the Hammond Airport, "almost" directly across the Causeway.
In 1957, everybody drove their street legal cars to the strips, including most gassers.
It was fall or early winter, 1957, about 7 AM on a Sunday morning, the weather was great, sun was shining and we (2 buddies in my car) were cruising across the Causeway to go race my car at Hammond.
I had a '57 Chevy 210 Del-Rey that I special ordered with 283 cu in/283 hp.
I already had won several drag races and knew that I ran around 100 mph in the 1/4. I never got beat in S/S.
I had a 4:11 gear and ran thru the eyes in 2nd at 6000 @ 100 mph. It was red-lined @ 6200 and would turn 6500.
I had never run it "topside" and rarely over 90 mph on the streets.
All the street drags were over before the end of 2nd gear.
Up ahead on the Causeway, was a teenager acquaintance who was driving his brand new '57 Pontiac Bonneville convertible (factory 3 deuces).
In his car were he and a buddy and 2 girls in the back seat, top down.
He was NOT a "hot rodder", rather a rich kid with a cool new car. They were going to watch the drags.
He was running about 70-75 in the right lane. I was running around 75-80 and came up on his left.
As I went to slowly pass him, he saw me and gunned it like he wanted to race?
So, I downshifted to 2nd and just stayed alongside him feathering it until he got flat out.
When he topped out at around 100, I was still in 2nd @ 6000.
I then floored it, got to 6200 just as my rear tires were at his driver's door, shifted to 3rd and caught rubber right in his ear!
I continued to pull him badly, as my car would run 124 in 3rd at 6000-6200.
The Bonneville kid and I remained friends afterwards and he TOLD EVERYBODY that I beat him topside in 2nd gear!
For a 19 yr old hot rod kid, THAT was as SWEET as I ever had it on the street!
I never again raced topside to this day!
That's my story and I'm stickin' to it!
Back in the mid and late'60s, San Francisco was going through a huge revolution. If you were truly cool you were trading horse power for flower power. Thank goodness a lot of us just weren't going down that easy. I had a sweet '55 Chevy post. It ran a 301, fi heads, 4speed and 4:56s.It was fast but by no means the fastest. 426 Roadrunners, Holman and Moody built Fords, Andy Brizo built 409s just to name a few ,were all there. We had three main street racing spots, NBC mountain, The Great Highway and Brotherhood way .Brotherhood was my favorite. It actually had a1/4 mile start and finish line on the street. A church parking lot was conveniently located at the finish line ,so if you wanted , that was a great place to hang and see who won. One night a motorcycle cop was in hot pursuit of two of the fastest cars and wasn't able to catch either one. He comes back to the parking lot at the finish line and proceeds to give about a dozen of us that were out of our cars a ticket for watching a drag race. One of the guys in our group says to the cop "I hope you fall off your motorcycle." Another had no license and told the cop "what are you going to do, take away my legs if i don't pay your fine?" That was actually the only time I can ever remember being ticketed by the cops. Once a guy had a full blown rail and the cops gave him a ticket for no headlights. They were usually real cool. .
Michael
Just discovered this link on the Gasser website and couldn't quit reading till I read ALL the stories. The memories just flooded back like it was yesterday!
I grew up in the little town of Wells, in Central Southern Minnesota, during what I think were the best years of our unmarried lives; girls, parties, and cars! (Not necessarily in that order, either) Most of the guys I hung around with were into Chevy muscle. Camaros, Chevelles, and Nova SS's, and lots of Tri-5's. Those 55-57's were cheap and plentiful back then. One car I had was a 57 150 2-door sedan purchased from a junkyard with no engine or trans for $75.00. Dropped in a screamin' 283 bored out to 301, full-race Isky cam, big ole' 4-barrel and a 4-speed. Went racing in Mankato and Albert Lea on weekends, very seldom got beat, but there were a few times. But the one race that really sticks out was when I had a 55 2-door sedan, bought for $30.00 from a gas station in New Richland, MN. I painted it Corvette yellow and dropped in a warmed over 327/4-speed. The car was quick and had a reputation to uphold. One Friday nite, me and Wayne and Mike were cruisin' the 3-blocks long main drag in Wells looking for some local action, whether it be involving cars, chicks, a good beer party, or a combination of all three. Suddenly there's a strange car in town with a couple guys looking for "that yellow 55". Come to find out they're from Albert Lea and they want to go racin'. They're in a nice looking 64 Impala SS, so we figure that's the car they're runnin'. Doesn't take long, word travels FAST in 3 blocks, there's gonna be a race out on the Freeborn Road, a nice new blacktop that runs straight east out of town to Freeborn, MN. It runs straight as an arrow for about 5 miles to the 1st curve.
Some of the good ole' boys from Wells had painted some white lines exactly 1320 feet apart on that nice new road. It had been the local Friday nite drag strip for years before that when we were still riding bicycles.
Pretty soon the main drag in town is almost deserted and there's about 50 cars parked on the gravel road at the "starting line". There's also a beat-up old pickup pulling a trailer with a rusty, beat-up 57 Chevy 4-door sedan on it, nobody knows who it belongs to. We're starting to wonder "what the hell" when that 64 Impala drives up to the trailer, one guy gets out, jumps into the 57, and fires it up. Needless to say, it wasn't what it looked like. That 4-door pulls up to the line next to me and the driver says "let's GO!" The engine in that car sounded like a NASTY big-block, especially running right out of the headers, and me with a small-block and stock exhaust through the mufflers. I guess it was an ego thing, I couldn't back down with all those friends watching, so we ran 3 times and he blew my doors off 3 times. Good thing (for me) there was no cash involved. That's when the cops showed up and everyone scattered, except those Albert Lea guys, they couldn't leave because they were trying to load that 57 back onto the trailer in a hurry. Us locals sneaked back into town and the guy with the 57 got tickets for illegal racing and no exhaust. So we had the last laugh anyway, the cops suspected but couldn't prove who the other racer was. The guy with the 57 could have ratted me out, but he didn't. I saw him later that summer and found out what he was running in that 57. It was a "full-race" 427/4-speed that he had just built for his 66 Chevelle drag car. He and his buddies stuck the engine into that ole' 57 just to test it out on us poor country boys.
As a side-note to this true story, the Faribault County (where I lived) Sheriff's Department had, at that time, the Sheriff and 2 deputies. They must have figured they needed some "muscle" to catch us hot-rodders out on the highway, because the Sheriff drove a red '69 GTO Judge, one deputy had a blue '67 427 Impala SS, and the other deputy drove a red '67 Olds 442. These 3 cars all had the police badging on the doors and red lights on the roofs. We respected those cars and very seldom got a ticket when they were patrolling the area. A friend of mine now owns the 427 Impala and has restored it to original condition, without the cop stuff on it.
As for me, I've never gotten away from those Tri-5's. I've had many over the years and am currently building another 57 150 2-door sedan. I'm going back to my roots with this car, it will be a street-driven straight-axle Gasser with a 3-duece 327/4-speed/12 bolt rear. In my ripe old age of 58, it's the car I dreamed of building way back in the late 60's and it's finally gonna get done. I'll just have to watch that rear-view mirror for Judges, Impala SS's and 442's with cherries on the roof, just like way back then!
Those WERE the days, my friend.
Steve A.
We were high school kids in west central Wisconsin back in the late 60's and most of us were running tri-five Chevy's with small blocks. Those cars were cheap back then, a rough 56 two door sedan went for $15, minus engine. Well, our buddy Token had a real nice 56. He had WAY more money than the rest of us, so he gets a real nice body job done, tops it off with a Canary yellow paint job, stuffs it with a built 396 four speed and installs an Amoco eight track loaded with the Guess Who. We were reeaaddy to cruise! And did we ever....Well, at that time I was working at my mom and dad's ROBO car wash for gas change and keeping an eye on who was cruising the fastest car in town when in drives Cecil. He's got a 67 Chevelle with 327 four speed and he pops the hood and shows me the strangest damn thing I've ever seen stuck between his fuel pump and carb. Looks like a gallon pickle jar with fuel running through it. He offers NO explanation but claims it makes his car VERY fast. Sure Cecil, you haven't seen Tokens car yet. OK.... so that night, Token has the high school hottie with him and picks us up downtown to hang a few U'ez on main street...and here comes Cecil. I'm gonna tell ya, back then it didn't take NOTHIN to get a drag race goin, and fortified by a couple brewskies I hollar over to Cecil..."327" and give him a thumbs down. Oh BOY!!! Next thing ya know were headin south outta town and onto Hiway 131, our very own late night drag strip... flat, straight, wide, with two county roads that cross it exactly 1/4 mile apart. We get on down to the start line and turn the cars around and line them up to head back towards town for the race. I hollar over again to Cecil that the mighty 396 is gonna eat him up. He shrugs his shoulders and says "We'll see"... We start the count down from the back seat of that 56 hardtop, theres four or five of us in Tokens car and just Cecil in his. Three! two! one! GO!!! Man oh man! ya had to been there...Cecils car lifts up a few inches and the tires are just boiling! and we're doing the same thing! But we're both accelerating like a sumbitch, heavy load and all, then Token goes for a power shift to second. Son of a bitch! Token misses second! and I have my first opportunity of hearing a HIGH winding big block. Man oh man Token, what a rush. OK...nothin hurt to bad...we pull over and Cecil comes back around to check us out. "We're good!" Token hollars out, "Lets go again!" ALRIGHT!!!! We're gonna SMOKE Cecil this time! OK... so we line up again, the count starts down again, and son of a bitch!...d'eja' vue...the engines scream, the cars lift, the tires boil, and Token misses second..again. This time, Cecil keeps on goin into town, Token finally finds second, or third, and we limp on into town. About now the beer is gone, we're whipped, it's late...Token drops us off by the grocery store and the line to the oil gauge starts to spew oil onto the engine. We get out and honest to god, my final vision of that hot rod chevy was of Token and the babe heading towards his place, oil smoke still billowing from under the hood. We never did find out what the mighty 396 would have done against Cecils homebrewed 327. The girl...she came back to town about 30 years later...weighing about a hundred pounds more. That $15 Chevy...the day I got married I watched my pals push it down the alley from my place....and I never did get paid.
Rooster
I was fortunate enough to come of age at a time in the early 70s when it seemed every socially minded adult was trying to unload their old muscle cars for cheap after having their butts kicked by the insurance industry and the OPEC oil embargo. As a 16 year old grocery clerk with a steady income and still living with the Folks, I had managed to stash away enough coin to pick up a big block '68 Camaro for $600.00! I bought it from a guy named John Roberts who worked with me and was a little older. He was my towns' version of John Milner of "Graffiti" fame, and both he and that car already had reps as fast company before I bought it. Yeah, it was "the fastest car in the Valley, man." After he sold me the Camaro, he proceeded to sink his money into another project, a black and white '57 Shoebox that came to be known as "The Skunk" and his brothers' orange, warmed over, 340 motivated '39 Plymouth Coupe. It didn't take me long to understand why my newly purchased first vehicle struck fear in people who went up against it. It scared the crap out of me for nearly two weeks straight before I got used to its power, the sound of the radical 3/4 cam, and the 8-track drowning Casler Headers and Cherry Bombs providing the foot massage beneath the floor boards. I nearly got my first ticket within the first 75 yards of leaving Johns' house after picking up the title and the car. I applied what I thought was up to that time a normal amount of pedal pressure to get the car moving and out into the street only to have the meats break loose right in front of a Cop who had just rounded the bend in front of me. He slowed waaaay down and nearly turned around, but after a pregnant moment, continued on his way. The last thing I needed was to have that cars' profile raised even further among the local Constables just as I bought it! Needless to say after I got used to it, and word got around about my ownership, my popularity went up accordingly, and all my buddies wanted to cruise with me on the weekends. A couple succeeded in prying it out of my hands for a test drive while I crossed my fingers in the shotgun seat or waited at the Pizza Hut while they went around the block a couple of times. One guy, Ruben, came back after I loaned it to him for an hour and a promise to put gas in it proudly proclaiming: "Hey Joe 'ol buddy, I hope you don't mind but I had to defend your cars' reputation out there. This guy came up and wanted to race me! Yeah, it was beautiful, I shut him down and he probably wont be back"... Forget about the car being a "chick magnet" though, it was a little too scary for the well-heeled girls that were popular in town. Header heat coming up through the tunnel, combined with occasional fumes from the double pumper mounted on the Tarantula intake, which stuck up under the fiberglass J.C. Whitney cowl hood. The whole concoction of petroleum perfume wafting back into the car was a bit much for the fairer sex, and it seems only my sisters thought it was tough and cool. In retrospect, I just don't think there were enough cool girls in my neighborhood anyhow. The car seemed to possess anybody who drove it anyway, kind of like "Christine", it didn't like competition for it's attention. Street racing the thing was somewhat of an exercise in ego stroking. I don't recall ever being shut down. The closest race though was with my buddy Nick in his '71 LeMans which sported a GTO front clip and a pirated '66 tri-power set-up from another Goat. I beat him by a fender before we both had to slam on the brakes to make a sharp left turn at the end of a road protected by a high fence. A few years previous, a black '55 Chevy with Gasser aspirations ended up spectacularly losing it in that same fence after a similar street race with another local hot shoe in a 429 Galaxy 500. The end of the line for my ownership of the Camaro came just a weekend short of shipping out to college in Albuquerque when it dumped the timing chain and bent a couple of valves. With no time to rebuild and no money anyway, I traded it straight across for a good running '68 GMC pickup which hauled me and all my gear to school the following Monday...Rats! The mechanic I traded with promptly tore it down, fixed it up, and with a little extra head work, took it to Missouri to race on the Strip. He said it ran like a "bat out of hell" in the dense lower altitudes until he blew it up for good a few months later while approaching 130 mph. Having to forfeit it in that way might have been a blessing in disguise though, because I couldn't wait to take on the city guys there in Albuquerque who had been racing for years on notorious South Eubank Blvd., which was a long, straight dead end stretch of road that ran back to Speedway Park. You could sit high in the stands at Speedway Park on a Saturday night watching the Sprint Cars tear up the oval (where the Unser Brothers started racing in the '50s) while also looking just beyond the parking area to see crowds of people lining the roadway as waves of hot rods lit off the line in manic heads-up street racing before the cops would show up scattering everybody like cockroaches. This kind of illegal hanky panky was tolerated by the locals for a good 35 years before three street racing fatalities in the late 80's finally shut the whole place down including the oval track which was bulldozed to make way for a high tech computer chip factory. As much as I loved that old Camaro and wish I had it back, sometimes I think it might have killed me too.. I came close a couple of times. Perhaps in The Almighty's grand scheme of things, blessings in disguise might occasionally come in the form of bent valves...JK Albuquerque, NM
Back in the late 60's and early 70's things were a lot different for the young male, maybe not with the ladies, but definitely with cars. Back then, anyone that had an intention to do so could borrow the money, and purchase a muscle car for a really decent price. I remember my friend Byrle buying a '68 SS396 Chevelle, about 3 years old with 28,000 miles, for around $2,800. It was a 396/375 horse, 4 speed, 4.10 gear, green with black buckets. With cars being relatively plentiful, and Iowa having the most miles of paved roads per capita in the US, there was plenty of street racing. (I remember working for the DOT as a "mechanic's helper" at this time earning $2.35 an hour). In spite of all these cool cars for cheap, the really fast cars were usually what would be classified today as junkers, that ran only upon occasion. While a relatively new muscle car was usually somewhat dependable (Byrle did drop a valve in his 396 at about 40,000 miles, as a result of severe abuse, and I had to help him rebuild his engine), a newer car meant car payments, insurance, and other costs that might prevent a large investment in speed-producing parts. With the very fast cars running so seldom, local racers would sometimes take months to get to the point both cars would be running, and the race would actually take place, and the bragging rights won.
The best example of this was my friend Phil (now deceased) who had a gold '56 Chevy 2 door. It had a 292 with the required "fuelie" solid cam, AFB carb, headers, and a 4.56 gear that coined the phrase, at least in Ames Iowa, that "nothing helps as much as a gear". I remembered Phil driving this point home to everyone at the local A&W one evening. He showed up at the drive-in after an absence of several weeks proclaiming his car greatly transformed by the radically low gear ratio, and willing to take on all competition. At least one person took him up on it, and naturally, everyone ran to their cars to go out to 13th street and watch. As was his habit leaving the A&W, Phil wound his motor to the moon before dumping the clutch to burn around the corner onto Lincoln Way. However, the new gear provided quite a bit more wheelspin that he was accustomed to. He spun a complete 180, smashing soundly into a telephone pole. "Wow!!" we all proclaimed, "He had so much power he couldn't even control it!" Phil jumped from his mangled car, seemingly none the worse for wear, and started running the half mile or so to his girlfriend's house, much to the dismay of the Ames police, who quickly located him and took him to jail.
Not one to rest on his legacy, even though he did not have a functioning car, or a license for that matter, Phil rode around in friend's cars challenging everyone to race his "car at home". To this day I have to laugh at Phil's ingenuity. It seems nobody wanted to race his "car at home" because of the way it looked sitting in his front yard. Huge ladder bars hung underneath near what appeared to be huge exhaust collectors. A giant hood scoop looked as though it covered a giant, supercharged motor, an exotic roll cage crisscrossed the interior. At night, it looked to be a wicked street racer, but during the day, when I went for a really close look, all the trick parts were painstakingly produce by Phil out of painted, black,................ cardboard!
"Old Man"
Perhaps the most important skill a true street racer could learn, especially in the early days, was the art of "giving a ride" to a prospective candidate that might brag you up loudly at the next bench-racing session. I remember Tony giving me a ride in his '69 Judge GTO. His technique involved a rolling start, nailing the throttle (loved the Ram Air III torque!), then brutally powershifting, while at the same time gently rocking the steering wheel back and forth. This produced a truly out-of-control feel to the passenger, and greatly increased the length of the smoking burnout. This was all part of a ritual he had for picking up girls while scooping the loop in downtown Des Moines. I think that a lot of the racing in those days was for the benefit of the fairer sex who were drawn to the street races. Anyway, If I was with him, Tony would drive around the loop until he spotted his "prey", two decent looking gals, by themselves, also scoping the loop. After they made the turn from Locust Street the 2nd Avenue (a nice, wide, 4-lane turn) he would fall a couple hundred feet behind them and "let it happen" in first and second gears, blazing by, sideways, in a cloud of tire smoke! Then, crept slowly down Grand Avenue, waiting for them to catch up, all the time rotating his head as in the movie "The Exorcist", as though he was looking to make sure "the Man" (cops) had not seen his exhibition. As they passed (we were driving less than 10 MPH now) he would yell out "Got a cigarette?". By this time nine out of ten of girls were grinning, searching their purses for smokes. The fact that neither one of us smoked never seemed to reduce the effectiveness of this ploy. I remember we lost two girls one night, after the cigarette they threw us went into the ram air hood scoop, and Tony stopped, and opened the hood to get it out.
I've survived hundreds of these rides over my 55 years, but one really stands out. My friend Gary, had recently finished an early Jaguar 4 door, built to replace his red, '59 Corvette convertible. With it's roman red paint, very loud 406 motor, (aluminum heads, ridiculously radical solid roller cam, 250 horse nitrous kit) the Corvette had been driven fast around town just a little too often for the local police chief's liking, as well as other citizens within earshot of our favorite test streets. This Corvette was the only car I have ever been riding in where a neighborhood citizen actually jumped into the street in front of it, in the suicidal attempt the apprehend the crazed driver. Of course, Gary's theory was those so offended by the Vet would certainly pay no attention to a stately, 4 door Jaguar. Naturally, the roller-cammed 406, TH400, a larger nitrous kit, a sectioned 12 bolt Chevy rearend with a 4.11 gear were installed into the Jaguar so it could still compete in nightly street racing. Now don't get me wrong, Gary was the craziest driver, on the street, I have ever ridden with, he scared my wife to death just WATCHING him drive, while she was following in a car behind him, but his plan for my "ultimate" ride took planning to a new level.
I had ridden in his Jag before that night, but never in the dark. This took place a few months before the Jag was totaled by snapping off a telephone pole on Lincoln Way, within the city limits, about 20 feet ABOVE the ground, and sailing, Dukes of Hazard style, several hundred feet into a cornfield. At the time, one of Gary's favorite roads, Airport Road, was under construction. On Gary's typical route, you could turn right, and go past where the guy jumped out in front of him, or turn left on Airport Road, now closed but preferable since the incident before. Well, at the time, they were moving the road several hundred yards to the North. Progress on the road had been slow, but they marked the end of the pavement with two huge barricades, each about ten feet tall, and about ten feet wide, painted with reflective white paint to prevent driver from going into the rough, muddy field beyond. Right after the turn, Gary hit the nitrous to make sure it was OK, then stopped. After my stern warning that the road ended in about 1/4 mile, he took off. At midnight, knowing the road ended soon, adrenaline of pure fear paralyzed me. In an 11 second car, the tiny specs that were the barricades, grew at an alarming rate. The sensation was that of a runaway locomotive, my fear tripled the feel of acceleration. He was not going to stop! My eyes were closed as we just barely fit between the barricades at over 130 MPH, Gary was laughing hysterically. Unknown to me, the road had just been finished about another 2 blocks past the barricades. Thank The Almighty for the 4 wheel discs on the Jag, in the 'Vette, we would have never got stopped. Gary said, "I can't believe you didn't scream!" as a felt a slight, warm trickle down my leg, I have not ridden with him again to this day.
"Old Man
Bob Belanger's Street Racing Stories
Going to Lions Drag strip in Long Beach California to watch race cars that we built headers for, such as, Kohler Bros King Kong, Stone Woods & Cook, Shores & Hess or Big John Mazmanian, this was a bitchen drag racing adventure, we would street race all the way there, from West Covina.
You could tell by the profile of other cars on the road, that they were going to Lions drag strip also, items like decals, headers, SunTach on the dash, Bucron tires, lift bars, loping valve clatter, or primer spots gave them away, anything that looked irregular we were on it with the WANT TO RACE cardboard sign.
My 56 Chevy 210 of many motor transplants was a real fun car over the years, one time I installed longer coil front springs, removed the shocks, and always ran with no front bumper, battery and tow bar in the trunk. (Tow bar to get home, when things went wrong)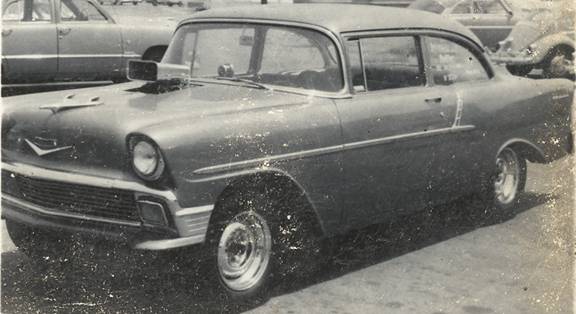 At the big four way intersections, I would hold my foot on the brake and load the suspension at the 1800 rpm stall speed on the home built GMC truck Hydro in low range, let up on the brakes then touch the brakes, then punch it hard, this would dip the front down then spring back up and lift the front wheels off the ground and carry 'em across the intersection, this was eye popping fun, the blower would suck air so loud, people in cars up ahead would look back in fear and even pull over, it was intimidating hooligan stuff.
With a 4:56 locked 3rd member, cheater pipes, and a whining GMC 471 blower, it was loud at (65 mph) and quick, cruising along trolling, look'en to stomp its guts out to the red line with a pumped up Ford, Vette Or Mopar, or better yet, look'en to come across my brother Jerry with his Les Ritchie, Performance Associates prepped and blue printed Red 406ci 59 Ford Ranchero, he was an avid street racer also, and still making headers to this day.
After the drag races leaving Lions parking lot, most dudes would light the tires up on the way out, it was nuts, plus street racing from light to light was happening all the way back to Bobs Big Boy in Pasadena or IN an OUT Burger in Baldwin Park (can taste it now)
Because the 56 Chevy Grey Ghost was a gas guzzler, gas stops were frequent; every Standard gas station we pulled into, people would flock over just to look under the hood.
Yep I was a show boater and loved it. I do all these things to this day but now on a 10 second street bike, in full race leathers on Hawaiian volcano mountain roads; before you die you should kill yourself on a 1000cc super bike, that's my fun factor theory.
"The older you get the grater the risk you should take" "Pick the right line"
"Never back off" "When in doubt gas it harder" "Reality goes at the speed of choice"
"Fine women, horse power, and perfect suspension"
Apply these quotes and expand your horizons, don't rust out like Big John Mazmanian's Football AG/S Austin Gasser, resurrect yourselves dudes.
Been there done that ~~~Bob Belanger aka Gasser, in Hawaii.
Bob Belanger's Street Racing stories 1950s style
Weapon> Balanced & blue printed 10/1 comp/ratio 283 ci Chevy, Isky 10,000 rpm Roller Cam, 11 lb Schaffer clutch/flywheel, four speed, 5:14 differential, Ram air dual quads, equal length four into one Belanger Headers, hooking up with Chevron BuCron tires, lift bars, cure ride shocks, this 1956 210 cheapo lightweight no back seat Chevy, was quick out of the hole, and would rev to the moon.
Now this is way back in the late 50s street racing in the foggy, smoggy hay fields of La Puente, Cal, way out in the middle of no where (now the city of Industry) across the tracks on a long dark narrow stretch of Hwy called 5th avenue. The then, freaking Boonies, dude.
This prime street racing highway cut through Dave Poppe's fathers hay fields, Dino Ferraro and I mowed and bailed hay on occasions to help out Dave, so we knew the fields and roads real good, when the cops would try and bust us for street racing at night, we would just cut across the fields with the lights out, hauling ass, and be back at the A&W before the cop's could figure it out.
Well they did some figuring, and one night Dino (my copilot) and I were just being flagged off with a C/G/S Olds powered 40 Willy's,~~~ at that 5,000rpm clutch release moment a RED flashing light reflects in my eyes off the glass face of the Sun Tach mounted high on the dashboard, Its the Sheriff coming up fast, I kept my foot planted in it, pounding the shifts at 8,000 RPM and had the escape rout all planed, but the cop's were there waiting for us in the secret turn off, trail/road, I saw their tail lights early on, so I opted to blast past, and shot up and over the double rail road tracks (very, very steep if you knew the area) and dropped in on the down hill side smashing the headers and cheater pipes to sparking smithereens, with my foot on the big Moon gas peddle, only looking at the Tach-o, never looking back-o, the turns were coming up fast-o and the brakes were smoldering hot, almost zero brake peddle pressure left, taking all the back roads, back home to West Covina, scared-O-shitless, Ya! the good old days man.
Now let me turn that all around.
One night Dave, Dino and I were having a few beers and come up with the idea of coming across the hay fields on a 5th Ave street racing night with red cellophane taped on the headlights blinking the hi/lo beams coming at the street racers from behind, whom were laying low behind the hill in the tall hay drinking beer, so the citizens would not see them and report a street race in progress.
This was a cool plan, it worked perfect, it caused a mad scramble for the only exit to the highway, dirt clods were flying, beer bottles flinging, chicks screaming, massive dust storm, scared the stinking hell out of everyone, since then every time Dave, Dino and I hoisted a beer together we would bust out laughing about that night.
Bob Belanger of Belanger Bros Headers, West Covina, CA
Aka Gasser in Hawaii
50-60s Street Racing Story
Being 63 yr and still street racing, today, only now it's on a pumped up 150 hp Honda CBR 900RR Super bike.
It all started in 1957 when my brother and I opened Belanger Brothers Headers in West Covina, Cal. I bought a 56 Chevy 210 two door that was used by a Proctor and Gamble soap traveling salesman; this car had ash tray nicotine stains up the dashboard into the headliner, plus lots of mileage.
I had many motors, experimental exhaust systems, transmissions, and 3rd members in that car over the years.
But my most fun, fast, loud, and chick magnet, street racing combination was a Isky roller cammed 327 Corvette motor with 471 GMC whining blower, protruding through the hood, with dual quads under an Enderle injector air scoop, connected to a 1950 olds hydro with drilled valve body and furnace brazed torque converter (before B&M hydro time) coupled up to a 50 Chevy ¾ ton truck locked rear end, with 5:14 ring and pinion, spinning 10" M/H slicks.
My friend Phil Glass and I would go street racing every night and start at Bobs Big Boy in Pasadena.
As we would wait in line outside for a parking space for carhop service, I would turn off the engine, when it was our turn to cruse the drive in Phil would hop out lay a purple shop rag on the hood and with a chrome Plews oilier can, and squirt some nitro methane mixed with castor oil into the Enderle Injector scoop sticking up through the hood, when that motor would light up it would scare the hell out people because of the through the fenderwell four into one headers, (first on the street) The collectors were made of 18 ga. sheet metal and resonated very loud, hooked up to corvette mufflers with 8 cheater pipes hanging under the axle, it twisted heads, and the sweet eye burning nitro/castor smell was the clincher that this was a bad street machine.
As we pull into Bob's with a whining blower at 1800 rpm stall speed with my foot on the brake, as the car is lunging forward with the duration of the cam, My co pilot Phil raises up a big card board sign saying WANT TO RACE, we park, put the make on the chicks, down three or four coffees and burn half a pack of Marlboros, listen to Jazz on my F/M tuner (the hot set up in those days).
With no takers we would make a big show leaving with just starting up the car, and then Phil would turn the card board sign over and it said CHICKEN SHIT on the other side, the locked 5:14 rear end chirped the M/H tires on the tarmac as we loped out of Bob's, heading for Hollywood Blvd to street race and find sexy women> (the good old days) when gas was 26 cents a gallon, because this 471 GMC blown motor got 6 mile to the gallon!
Once on the freeways, any one was a choose off, Pull up next to Corvettes, Dodges, fords, anything that looked fast we would flip them the WANT TO RACE sign, I could pull that homemade stick Hydro into second gear at 65mph and pin it to 9500 rpm slip it into third gear and the glove box would pop open from the hit when that hydro would shift into the next gear, we had stiff necks from street racing that car.
Four years of every other night and weekends of street racing and never got a stinking ticket, not even for loud pipes, go figure?
My brother Jerry and I built headers for Stone Woods & Cook, Big John Mazmanian, Shores & Hess, Kohler Bros King Kong, Weekly, Rivero, Fox, and Holding the Frantic four just to mention a few, I got drafted in the Army in 63 and that was the last of my drag racing and Header making days, Jerry is still making Headers in Phoenix, for those that remember the late 50s and early 60s, give him a call.
~~Bob Belanger aka Gasser in Hawaii~~
Okay...This is really "entrapment". But there is a story of a crazy thin guy from Trenton NJ who was know to have the "Fastest car in town". Now that just drove all those Fonzie type guys nuts. They would drive and latter on, trailer in their rods to race this beach boy, heads up, sight unseen. They would come down from Newark, NJ and up from Phila, PA and in between. A young fox named Suzie would stir up the competition to spitting mad frenzy and then hold their bets. Seems the state of New Jersey had just finished a multi-million dollar 10 mile road project and a bridge crossing over to PA. That is the I 95 interstate that now connects US Rt 1 and PA. It was the road to no where. It was straight as an arrow for ten miles and then just stopped on the PA side of the Delaware river in a 360 loop. Most of the locals never used it. Well a couple of the boys knew what to do with it. As I remember, it was 27 lengths of a group of clothes lines tied together to equal 1/8 mile. A nice two foot thick stripe marked the spot. Then again at the start and 1/4 mile marks. It was just a couple buckets of old house paint we mixed together...lasted for over 30 years. Anyway, once everything was set up by Suzie, we would meet at Scudder's Falls Bridge Rd. at a set time. The road was not lit, so the spectators would line the road for the entire quarter and light it with their headlights. Then down would come an old 55 Chevy wagon with that faded green paint. Ramps would come down and some nut case was already sitting in his B/Gas dragster in his aluminum fire suit and helmet. A quick primer in the Hilborn stacks a push start and up to the line. You could hear the bellyachers a mile away. LOL "Run what ya brung". Drag racing the way it was...what the hell is a bracket race anyway? Sounds like something you would find in the shelving section of Ace Hardware. Anyway it paid for a good portion of my first year at Trenton State College doing that. One of my buddy out laws, ended up becoming the Chief of Police for that area. That's my story and I'm sticking to it.
"Speedy"
Was talking to a neighbor up the street last night. He used to live near Syracuse NY (Estes drag strip?). Anyway a buddy of his had the tricked out RoadRunner 383 4sp in the area. One night they were picking up some beers and these guys in a rust old Chevy with snow tires and North Carolina plates were asking about the RR and how fast it would go and did they want to race, how about for money, pinks. Well the kid declined to race, but they were so to side at the next stop light. The RR gets it on, the chevy passed the RR while it was still in second gear, smoke pouring off the snow tires...
I never really street raced, but there was this vette lined up against my Mustang in East Windsor NY, We were at a light to cross over highway 33 (could have been 130 but that was 29 years ago), my aunt was in the car. Having experienced the light a couple weeks earlier I new what to expect. I got out of it when I hit the crown of one direction, saw an awful lot of sparks when the vette hit the upside of the crown for the other direction of 33 <G>.
Barry
Well back in the early 70's I use to work at this one gas station and my one friend had a 440 GTX that was a dog! I use to drive it for him cause he couldn't shift worth a darn. I talked him into selling that thing and he used the money to buy his cousins stock but real nice 67 6 cylinder 3 speed Nova. We put in a "warmed" over 327 out of a Vette, Muncie 4 speed, 12 bolt posi out an SS Camaro with slapper bars, Kustom (remember that name?) wheelwell headers, Holley 750 double pumper, and went street racing. When we just got the engine in and fired it up 11 PM on a Saturday night at the station. It had open headers and we where just going to try it out front for a quick run when all of the sudden this Amherst cop car pulls up next to me! OH Shit I thought and I quickly shut it off. The cop on the passenger side says to me what does it have in it? I said a 327! He tells his partner and they grinned and said lets go! They peeled out and I just sat there dumb founded! We did have a cop friend on the force that used stray a little and race with us but these guys weren't him! Anyways we raced for about 1 1/2 years that car and never lost a race. We use to hit the local hangout Pats Hotdog's and the streets and hound guys until they raced! My one bud was a real smart ass and would specialize on getting guys out with their girlfriends really ticked until they would always race. After they lost he would wail the most obnoxious Hyena laugh! Man when I think about it today we where class one jerks! But we did have a blast!
Carlos
It was 1966,,Anchorage, Alaska, in the winter, when the drag strip was closed, street racin' was a way of life.
The hi-way dept did a great job of keepin' the roads clean, at midnite, on Fridays & Saturdays, we'd all meet at the local drive-in restaurant and head outa town. I had a '64 GTO,tri-power,4-speed,,it was run what you brung,,pair off with someone you think you could beat,,maybe 40 or 50 cars would race,,a couple hundred would line the hi-ways & watch,,one nite we got busted,,a hi-way patrol cop rounded us all up,& told us if he caught us again,he'd arrest us all,,he also said we couldn't outrun him,,,"bull ***t" I said to myself,,all he's got is a cheapy '65 Dodge Coronet,,,,,,,,,,,,
well,a couple weeks later ,we were runnin' again,,this time east of town,,thinkin' his area was west of town,& he wouldn't be around,,
I paired off against a '57 chevy,,man-a-fre 327,4-speed,
as I went into 2nd gear,,a bright red flashing lite showed up in my rear view mirror, several hundred feet behind ,
the '57 backed outa it,,I banged 3rd gear,,"I can out run that piece a junk" I said to my self as I was just ready to hit 4th,,,he went around me,,,,,,I slowed,,,he turned sideways in the road & stopped,,got out & told me to follow him back to where the rest of the cars were. There was no escape for the rest,,ocean on one side of the hi-way,,a cliff on the other,& another cop blockin' the road
We got back to where the rest were ,he rounded us all up,he said,"I told you guys you couldn't outrun me",,
then he opened the hood on that "cheapie" Dodge,,
yup,,you guessed it ,,there it was ,,a 426 Hemi,2 fours,& a torqeflite,,,a 2 something rear gear ,16" tires on steelie wheels,,& a 160 mph speedo,,
He lectured all of us for at least an hour,,then told us to go home,,a warning,,,
The next summer,4th of July drags at the strip,,the hi-way patrol sponsered the races,,,I won street eliminator
w' my C/Gasser,,,& the cop that presented me with the trophy was none other than the same cop that blew me away out on the "two lane",,,,
We never did stop street racin',,just found a better spot,
The two fastest cars were a "strip" only '65 Dodge Hemi & '66 Chevy Biscayne 427,,,neither were street legal,,they just put plates on em off their other cars & hooked up the lites,,
Bill
I was just starting to drive in the late 70's so I don't have any street racing stories to share from back then, but I did get involved in one incident (about '85 or so) that's worth telling.
The first "neat" car that I ever got was a '66 Vette roadster. Worked two jobs and a lot of overtime to pay for it and then spent the next year fixing it up. I kept it at my parent's house in West Paterson (northern NJ). One Saturday afternoon I took it out for a short hop around town to see if I had cured a carburetion problem that had been dogging me all week. Dad was in the garage farting around when I pulled out.
The Vette was running fine so I just figured I'd take it down the main drag and head for home. I was sitting at the light and some kid in a beat up late 70's Camaro pulled up next to me. The idea to race him up the main drag never really occurred to me until the light went green and he took off. My youth got the better of me and off I went, determined to pass.
McBride Ave. in West Paterson is a string straight road for about 1/4 mile, and then it hooks hard to the right. Along the way you pass a firehouse, stores, a school, etc...not the appropriate place for a drag race on a Saturday afternoon. Didn't matter...I reeled him in and stayed on his tail all the way up that street. We even pulled out over the line to pass someone in our way...
About the time I passed the firehouse I knew it was over and I got on the brakes-hard. You see, that right hook was coming up and I really wasn't sure I could scrub off enough speed to make it. The Camaro didn't slow down, and I remember thinking that he probably wasn't from around here. Well, he did see the curve coming up but it was too late. He locked up the wheels and proceeded to head off the curve, plowing into a parked van right at the turn's apex. I was a bit luckier, and although I got all crossed up I did manage to slide through the turn and get the whole mess stopped a little past the wreck...angled across the road. Kids must have guardian angels, because there were no cars coming the other way, no pedestrians to get hit, etc.
I sat there, in the middle of the road for a few seconds thinking that if that guy in the Camaro didn't make a move I would go over and help...and suffer the consequences. That's when the door to the house on the curve burst open and about 3 big guys came running out (the van's owners, no doubt). Mr. Camaro also started getting out of his car, so I figured it was time to get out of Dodge. First gear, sidestep the clutch and I'm gone. It was only about a mile to home (West Pat. is a SMALL town). I pulled it into the garage...Dad was still in there. In the background I could hear sirens. "How's it running, Son?" "Great, Dad." he didn't see that I was sheet-white and my knees were knocking. I went on the front porch to wait for the cops. Plenty of people had seen me and in a town that small my car stuck out-everyone knew I had that car.
The cops never came. The Vette stayed in the garage for a while, and the whole thing taught me to be a little less foolish on the street. I have occasionally strayed, but I'm much more discreet.
Scott
Back in the late 70's I was a president and co-founder of rag tag group of guys in south Florida named Ka-Boom racing enterprise.. we all kicked in for shop, beers, porno what have you.. but every Saturday night if we weren't at the track we were street racing.. we had Chevrolet's and Mopars in our stable.. Damn good running one's too!! for two summers back in the late 70's we were unbeaten ..well one night at the races, some out of towners came to hunt us down,, had a mid 60's Vette.. solid rear axle, tilt front.. sprint car tires on the back.. we saw him unload it off the trailer around the corner.. upon closer inspection he was running a small block. smokey ram...and open headers and probably the first time I saw a holley with the air horns milled off.. sounded real nasty too.. we had one of our members 68 Camaro. .just a 400 block with the bolt-ons...looked very deceiving.. but this car will run 12.0's all day, thru the pipes and on street tires (Formula one Super Stocks.. remember those, air them down a bit and they worked real good) well I figured the vette was good for low 11's if it hooked so a race was arranged for $200..one car and a jump...well these guys were laying down the VHT did a few hellacious burn outs.. we just did some short chirpies.. I lined them up and waved them off.. one hell of a run.. we beat them by half a fender,, we collected our money, he wanted a rematch, His car started over heating, things looked like it could get ugly.. so we packed up and hauled ass.. you could never tell with the out of towners.
Lars
Back in '64 I had a '57 Chevy BelAir 2dr. Hard top ....Arrest Me Red in color...
Came with a 283 4 barrel, I drove this till late '65 till Graduation....
Any way, everybody in school knew it had a 283 in it all those months....
There was this Guy who was the School Bully...you know...with the Vitalis oily hair in a D/A..(for the younger readers :ducks ass) hair do..
He was a senior with a '63 Max Wedge.. 413 or a 426..? Don't remember what they had for that year....[LD...Max wedge was a 426 in 63] He was the King of the hill back then....
Well anyway, This friend of mine (Bill) worked at a Sunoco station then.....
He had a '62 409 Chevy...that this kid got killed in when it rolled....
We were talking one night when this guys name came up..he mentioned wouldn't it be great to stick that 409 in my '57....We laughed for a while then got to serious talking...We started on our project that same night.
Well, it sure took some doing with the Cast Iron headers an the steering an all..but working on it at night we had it done in a week.
You should of seen my eyes the first night we started it UP..! My 4-speed, Dual Quad, '57 - 409.....!
Well any ways...we didn't want to go to the expense of an exhaust system..so we tried to figure out how to get it to our favorite spot ..so we could challenge this grease ball for a race against a 283 - 4-barrel....Tee Heeeeee!
We made the date...Took the '57 out to Morgan Johnston Road, after school
on a flat bed...
Then we all went to Lums Restaurant, A&W, The DrumStick, McDonalds serving only 250,000 people then..Ha! Ha! & Burger Queen back then....An proceeded to tell every body about the Race on Friday night....
Well this Guy got drift of the race he never knew about, from all the Kids at these Hangouts....BOY..! That's all he had to hear about his bad ass wedge running a 283 4-barrel.....He Was HOT....! We saw him at the A&W...he comes up to us an says he's never been beat...an especially by a so called 'Chevy'.....An would we like to put $100.00 bucks on it....
Well between the 4 of us we had enough to buy a cherry coke.....So (Bill) my friend from the Sunoco station steps in an says how bout $200.00...? He even got Hotter....How dare you, you bunch of punks..an took the bet.....
So we set a time, an told him the Place....Bill an all of us, plus 1/2 the school, an hang outs..proceeded to the spot....
When he got there...Hey where's that 'Bad Ass Chevy'...? I said I had to go down an get it out of the Garage, be right back..
Bill an I went down to where the '57 was parked...We looked at each other for a second..an just burst out Laughing. Ha! Ha! HA! HA!
Then I preceded to fire this 283 4-barrel up.. Now you have to imagine this..its 10:00 o'clock at night 1964...Out in the Boonies, Cow Pastures...And all of a sudden the SOUND of a 425hp 409 Open Exhaust breaks up the Dead Silence of the night.....WOW!
Here we come up the road with this beast...never drove it for a test ride, or even around the block to see if our welds held up.
The Guy says No Big Deal, so you undid our Dumps....I'll still run Ya....
We lined up the cars...A guy with a White shirt got us ready...I brought up the 'R's..let the clutch have a load on it...And then down came the white shirt......HOLY SHIT JUST BROKE LOOSE....This Frigggg'n '09 put 4 cars on him in 2nd gear..Thanks to the Bu'Crons Tires..
Here we GO..3rd Gear another car length ....I remember looking out the window to see if he was coming up on me...
An all I remember was Laughing so hard at all the 'COW's' I was scaring the Hell out of running for Dear Life, away from that Road.
Needless to say, we collected our $200.00 bucks an was the Hit ,& Talk of the School for many years after......
I Wish I Still Had That '57...'The Good Ole Days..When Sex Was Safe & Drag Race's Was Dangerous....!
LD
I have a street racing story about somebody else. I had a friend in the seventies that had a SS-GA 69 Roadrunner, 440 six-pack. A guy in another town about 30 miles away was bragging that he had a street legal Camaro that would outrun him. My friend sent word that if he wanted to put up $500 he would run him for it. The guy in the other town sent word back that if he would drive his Super Stock car over there instead of hauling it he would run him for $500.(not thinking he would have the nerve to do it.) So my friend took the back roads one evening and drove that bad boy with 15x33 slicks,open headers, and the name of the car in Chromagraphic letters on both sides of it, over there and took the bragger's money. I could probably be persuaded to tell his name but I'll just attach a picture of him instead. He's been a big name bracket racer in the South.
Wayne
when i meet my wife i street raced for aliving. in 1970 you could do that. one of my favorite races was at a mobil gas station we hung out at. a guy was there with his new 440 gtx when i pulled in with my 62 poncho 421 2/4s 4speed 4.56s alum frontend. he asked what i was going to do with that big boat. well after i smoked him good he wanted to buy it. boy wished i had it back. i guy i sold it to pulled the 421 put in 396 chevy dumb a. i found what was left of it years later in junk yard no mill trans rear front end sheet metal or numbers. the last car i street raced for living was a 1963 and half 427 factory race car ford. wished had that too.
Billy the Kid
These street racing stories are bringing back memories.
I didn't do much street racing but sure did a lot of hotrod driving. I was raised by foster parents on a small farm in Georgia. Our Dad made a living by selling vegetables to markets in the nearby towns. I remember about 1969 he let me take some baskets of tomatoes to a store about twenty miles away. I was seventeen at the time and this was my first solo trip. We had a 55 Chevy, six-cylinder, three on the tree. I was itching to try the car out since our Dad never got over 50 mph. I had watched the neighborhood guys hotrodding and street racing on the road in front of our farm for years so I was anxious to try my hand at it. I had to drive slow to the store as not to damage the tomatoes, but on the way home it was a different story. I didn't have time to look at the speedometer, but I was nearly going airborne over little hills. When I was about five miles from home I came up on a real slow car. There was a straightaway ahead so I pulled the column shifter down into low gear and went out around him. I had listened to the hotrodders racing around home so I had learned what speed-shifting was. So when I got wound out in first gear, I rammed the shifter up into second gear without letting off the gas. I just about hit my nose on the steering wheel when the transmission stayed in low gear. When that happened I wasn't far enough ahead of the car I was passing to pull in front of him so I slowly drifted back behind him. How embarrassing!! From there I had to drive the car home in low gear as there were no second and third. I stopped at two service stations to see if a mechanic might have a quick fix but they said the transmission was broken on the inside. I was scared to death to go home and face my Dad. I wasn't accustomed to lying to him but it was in my best interest to this time. I told him I didn't know what happened but it just wouldn't come out of low gear. To my amazement he wasn't angry and said he had been experiencing some problems with it lately. Bless his heart, he passed away in 1996 and I never did tell him what happened that day. I now have the 55 Chevy and am in the process of restoring it.
Wayne
Byron; how 'bout the fifty's,,,
In Sept. of '56 ,my dad ordered a new '57 Chevy,
210 2 door hardtop (he was too cheap to buy a Bel Air ),
283 power pak,3 speed overdrive,4:11 rear end, turquoise &
white, we drove it from Iowa to Calif. that x-mas to see relatives & go to the Rose Bowl game, even though I only had a learners permit, he let me help drive ,on old route 66,,
in Feb. I got my license, he agreed to let me have the '57 on Wed. nites for the car club meetings & ONE nite on weekends for a date, Well, the car club meetings lasted all of 15 min...just long enough to decide where we were goin' to go race, one of the guys' dad was the local cop,& he would find out what side of town his dad was patrolling, so we would race on the other side,,
The '57 was "king",,I went several months as top dog,,
one of the guys' dad owned the local jewelry store, he was goin' to drop outa hi-school, so his dad said he'd buy him any car he wanted ,if he'd stay in school,
they went to Calif.,,L.A.,,when he got back, he had a '53 Olds "rocket" 88,,2 door ,light green w' a white top,,
didn't look like much, said they found it for sale at a gas station, out there, then ,he lifted the hood, chrome valve covers, headers (headers???shoot, most couldn't afford
Smittys mufflers) but, there on top, was 3 DUECES,, wow
I was blown away,,3 DUECES,, darn,,,on the firewall was
a small tag,, it said " engine by MONDELLO ",,hhmmm,
that musta been the gas jockeys name at the station ,,,I thought,,,( I learned later who that Mondello dude was)
we paired off that next wed. nite, he got me a fender outa the hole, I'd learned how to "snap" shift that column 3 speed, and that's where we stayed, I couldn't catch him, every wed. nite we paired off, every wed nite he beat me by a little more, finally ,,by a whole car length, anybody that wanted to race him, had to race me first, that was his rule, nobody ever got to race him,,
in fall of '58,my dad traded the '57 for a new '59 4 door hardtop Impala,,283 2 BARREL, powerglide,, I was sick, I begged him to let me buy the '57,,but ,"they gave me what I paid for it new ,$1900,& it's got 102,000 miles on it " he said,, "besides. you can't afford it"
When he was signing the papers on his new '59,,( the sales office was above the service dept) he looked out the window, there was an auctioneer & a whole crowd of people surrounding his old '57,,"What's going on", my dad said, the sales mgr said "why, we're auctioning off your old car" ,,"why?," my dad said,,",don't you know?"
he asked,, "that's the second fastest car in town",,,,,
When my dad got home, I was in deep "s**t,," you been racin' my car?" he said, no he "HOLLERED" ,,
well, I didn't get to drive the new '59 for 6 months, had to be happy w' my '51 Ford daily school car,,,
Bill
Byron;
O K ,,now a '70's story,
it was 1971,,I'd moved back to Iowa from Alaska in late '69,,bought a new '69 SS 396 Chevelle(hugger orange W' a white stripe) up there & drove it down the Al-Can hi-way,,4000 miles to home,,\
I'd spent all afternoon that Sat. tuning' it up, Motion
top cat kit, plugs, timing at 42 degrees total, even a new set of TRW valve springs,( without pullin' the heads,, Snap-On man sold me a trick tool), so ,I was ready to go trawling fer
alligators( races), cruzed all the drive-ins,, was 'bout sick of fries & cokes,,, it was almost midnite,, figured I'd try one more place,, backed in to a spot, (always backed in on the outside parking places),, the car hop came out,
ordered a Vanilla Pepsi,, lit a Lucky Strike,& waited,,
here came a Boss Mustang,, sounded good,, I could see the headers criss crossin' under the oil pan,, MEAT,,,,
he saw me too,, backed in beside me,, got to talkin' & he
was lookin' fer a race too,, Then a Road Runner came cruzin' in,,,he backed in on the other side of the 'Stang
told the 'Stang how much of a piece a crap he had,, the 'Stang jumped on it,, I said " I'll race the winner",, so I
followed em out of town,, out on the "Two Lane" ,we were surrounded by corn fields, ,no houses in site,, I flagged em off,,,the 'Stang got a whole car length on the 'Runner , outa the hole,,then all hell broke loose,,the 'Stang broke a motor mount & busted the oil filter,,oil went all over the place,,,helped him push the "stang off on the shoulder,,the "Runner came back to collect his $50,,
I said O K ,,my turn,,so the 'Stang flagged us off,,
I pulled the 'Runner a fender off the line,,stayed there in 2nd,,pulled another couple feet in 3 rd,& walked him in 4th,,those Motion jets & metering rods really werked,,
not to mention the Mallory points & TRW valve springs
got my $50 from the 'Runner,,he left,,kinda "pissed"
told the 'Stang we couldn't leave his car out there,or it
would get stripped ,,I got a tow strap outa the trunk & towed him to the nearest gas station,,,
the next Monday morn. ,at werk ( I was a service manager at a auto center),,one of my mechanics came in,,& shook my hand,,( he wasn't my favorite,,he didn't like me,,he was a Ford guy & didn't like Chevy guys,,wouldn't do what I asked ,without a hassle,,ever since I hired him outa Tech School),I asked what this was about,,he said "Thanks" that was my best friend you towed in Sat nite,,,after that,he never questioned my
job assignments or my advice,,turned out to be my best guy,,,
Bill
Bill, At 18 years old in 71 I bought a 69 Chevelle,396, 3 speed in the floor. I lived at my mother's house at the time. I was in love with that car, washed and shined on it every day. About two months later I go to get in it and it's gone. Called the police and they find it over the side of a bank somewhere up against a tree. All they took was the carb. and the SS wheels. They pried the trunk lid open and got the spare. It took the body shop and the insurance co. about three months to get my car fixed. During that time I got a new girl friend but I was sporting around in my mothers extra car, a Corvair. Of coarse I was bragging to the girl friend about my Chevelle. When they finally got it fixed my brother and I went and got it and I took it to the freeway and opened it up. At about a 110, It suddenly started slowing down and I just tried to push the gas peddle through the floor. When it finally came to a stop The motor was locked up. Off to the garage it went to be rebuilt. About two months later the garage had it rebuilt and the mechanic told me to drive it real slow for the first month so I headed straight for my girl friends house to show her my car. She told me that her brothers had told her that they didn't believe I had a Chevelle. About two weeks later I was driving home real carefully and suddenly the engine made a crunching sound and locked up. I towed the car back to the mechanic that rebuilt it and he tore it down and said he had never seen anything like it. He said all the rod bearings had stacked up on each other. He concluded that the rod bearings were the wrong size for the crank. So about a month later the Chevelle was fixed again and didn't give anymore trouble for a couple of years. I bought a four speed and put in it and took it to the dragstrip. It would run 14.70 in the quarter which was quick enough to make the 15 second break at our dragstrip. A couple races later I blew the engine when I missed third gear during a time trial. A friend that had been wanting to buy the car for a while jumped at the opportunity and offered to trade me a 67 GTO even for it so I did. The GTO was in good shape. It had a 400 cu in engine with an automatic trans. with a floor shifter. It ran almost identical e.t. as the chevelle. I won my first drag race two weeks later and have been drag racing ever since. I'm 50 years old now and just about retired from racing but I still have my 66 Chevelle drag car that I've had since 1981.
Wayne.